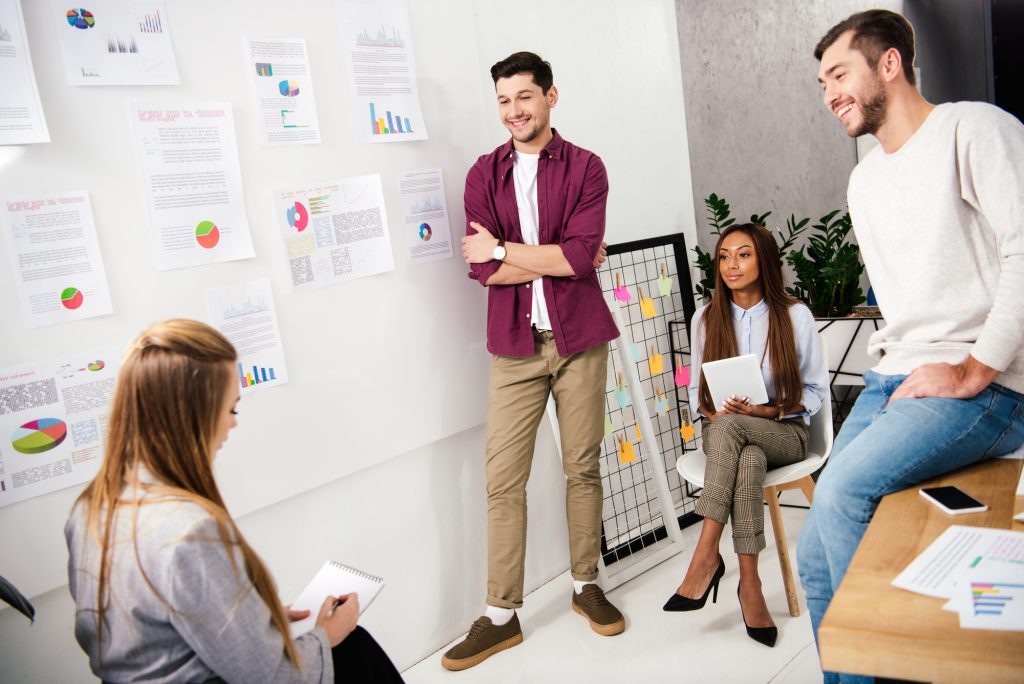 If you've thought of adding real-time social proof to your website, you aren't alone. In fact, many marketers are seeing the benefits of using tools like Evidence to build buyer confidence.
Like any marketing effort, your social proof campaign needs to be created with strategic intent. This post is going to give you direction on how to build a winning game plan for your social proof campaign.
What is social proof and why does it matter?
Let's talk about social proof and learn why it's so helpful for marketers and consumers.
Credit for coining the term social proof is usually given to Dr. Robert Cialdini when he wrote his 1984 best-selling book, Influence. The concept of social proof is fairly simple: when people aren't sure of what to do, they look to the actions of others to guide their own actions.
Consider some of the actions you take in your own life and how they are influenced by the actions of others.
When looking at very similar products, you are more likely to purchase the item with the largest number of reviews instead of the item with a smaller number, even if they have the same rating.
When looking for a good cafe or pizza parlor, most people check sites like Yelp to see what others are saying.
During the early stages of the COVID-19, many people in the US were stocking up on bottled water, toilet paper, and other items. Why? Not because there was a shortage of food or water. Nor was it because the virus could harm the water or food supply. People rushed to buy food, toilet paper, and water because everyone else was doing it too.
Believe it or not, we are significantly influenced by the actions of others.
(Yes, this means your teenage daughter has a somewhat legitimate excuse when she says, "everyone else was doing it." Sorry.)
Online businesses are constantly looking for a better way to build trust without having face-to-face interactions like a brick and mortar store. Adding real-time social proof can do that.
Pre-Work Checklist
Before we dig into building a social proof campaign strategy, let's talk about some of the things you can do to prepare for an effective campaign.
Do you have an optimized website?
Adding social proof is one of the ways to optimize your website for conversion, but this is just one of the many things you can do. Here are a few others that you need to consider.
Have a Clear Goal & Measure it
You'll never be able to truly optimize your website until you start measuring your conversions. Yes, some improvements can make an obvious impact on sales, but others can cause a subtle increase in conversion OR a decrease. Make sure you define your website goals inside of Google Analytics or a similar website analytics tool.
Easy to Navigate
A new, swanky grocery store was recently built in my neighborhood. They have good prices, friendly staff, and are only 3 blocks away from my house. But I hate shopping there.
Why? Because their store layout isn't intuitive and it takes me twice as long to find what I need. It has gotten better over time, but I usually drive an additional 2 miles to visit the other grocery store that is easier to navigate.
People are looking for something specific when they come to your website. Can they find what they are looking for? If not, they are going to leave within seconds of getting frustrated. Before you claim that your website is simple to navigate, remember that just because it makes sense to you doesn't mean it makes sense to your site visitors. After all, you built it. That is why it makes sense to you.
If you are serious about optimizing your navigation, you should consider digging into your site analytics. How high is your bounce rate? How many pages are visitors viewing? If these website KPIs aren't as optimal as you'd like, consider testing new navigation for your website. You can also get free heatmapping and user-browsing tools like Hotjar or Inspectlet. Both of these tools will help you see what is really happening on your website.
Make Your Site Visual
It's important to make sure your website is easy to browse visually. By visually, we mean without having to read all of the text. More often than not, someone is going to land on your page and scroll without ever reading all the copy. If it looks like they'll find what they want, they will read the details.
A good way to test this is to step a few ft from your screen, squint, and scroll the page. Does the core content and design of the page fit the overall objective of your website? Would a new site visitor feel the same way?
Define Your Funnel
Marketers often talk about turning their website into a marketing funnel. A funnel is a set of pre-determined steps that you want your prospects and leads to take. Here are some example steps:
Clicks link to landing page
Downloads e-book
Clicks promotional email
Purchases entry offer
Views upsell
Purchases upsell
Given post-purchase offer
It's helpful to know each step of your marketing funnel before you build your social proof campaign. This will help you target specific messages based on where your prospect is in your funnel.
Do you have a customer avatar?
Whether you call it a buyer persona, customer avatar, or something else, the concept is the same. A customer avatar is a written version of your perfect customer. A properly documented customer avatar includes their demographics (age, income, job title, location, etc.) and good insight into their typical purchasing process (how/where are they doing research, what are their pain points, how do they make a decision). We won't go into detail on how to build a customer avatar. If you'd like more information, check out this post from our friends at Digital Marketer.
Any effecting marketing campaign is going to show the right message to the right customer at the right time. Having a good understanding of your customer avatar will help you know what type of social proof to show to your website visitors and when you should show it.
What are your sources of social proof?
We already defined social proof as seeing or knowing that other people are taking a similar action that you are considering. Before you lay out the strategy for your campaign, you need to identify the actions being taken by others you want to show as social proof. For simplicity's sake, we'll call these actions sources.
While we are discussing sources of social proof, it's important to note that we strongly discourage using fake information for your social proof notifications. Not only is it dishonest, but you run the risk of making irrepairable damage to your brand if people realize your are showing fake information. You should never use false information as the basis to build trust. Evidence does not have an option to upload fake information. All data sent to Evidence must be sent from an integration, webhook, or webform.
When you look at all the potential sources of social proof, new customer purchases are usually the first thing that comes to mind. However, too many online businesses make the mistake of only showing purchases in their campaign. There are many other types of positive engagement that can build buyer confidence. Not only do potential customers want to see active engagement with your site, but showing more than just recent purchases can show the authenticity of your social proof campaign.
Here are some examples of types of sources for your social proof campaign:
New customer purchase/sign up
Returning customer purchase
Blog/newsletter subscription
Webinar registration
Webinar attended/viewed
Appointments scheduled
Trial sign up
Coupon used
Ebook/whitepaper download
Shipping/delivery notification
Phone call (ex. 58 people have called to learn more about ______ this week)
Historical website/page visits
Live website/page visitor count
Blog post read
Software demonstration booked/requested
These are just a handful of examples. There are hundreds more. Just ask yourself, "what are the positive experiences people are having with my product/service?"
Essential steps to your strategy
Let's chat about all the things to consider when building your campaign strategy.
Relevancy
Imagine you are browsing the produce section of your local grocery store and comparing the different apple varieties. While looking at the quality and prices of the options available, someone approaches you about buying a new set of tires for your vehicle. Even if you have a need for tires, you aren't likely to show any interest because it isn't relevant to your current objective: to buy apples.
Most websites have multiple offerings on their websites. When building your campaigns, make sure you are targeting site visitors with relevant social proof notifications. If you sell fashion and cosmetics, for example, considering showing recent conversions of people who just purchased shoes to the people that are currently shopping for shoes. Do likewise for people shopping for cosmetics. This type of strategy reinforces their decision to buy a specific product from you without interrupting their thought process.
Evidence makes it easy to make sure your social proof notifications are relevant to your site visitors. You can create a custom campaign and tailor it to each product page, category, blog, checkout pages, or your home page.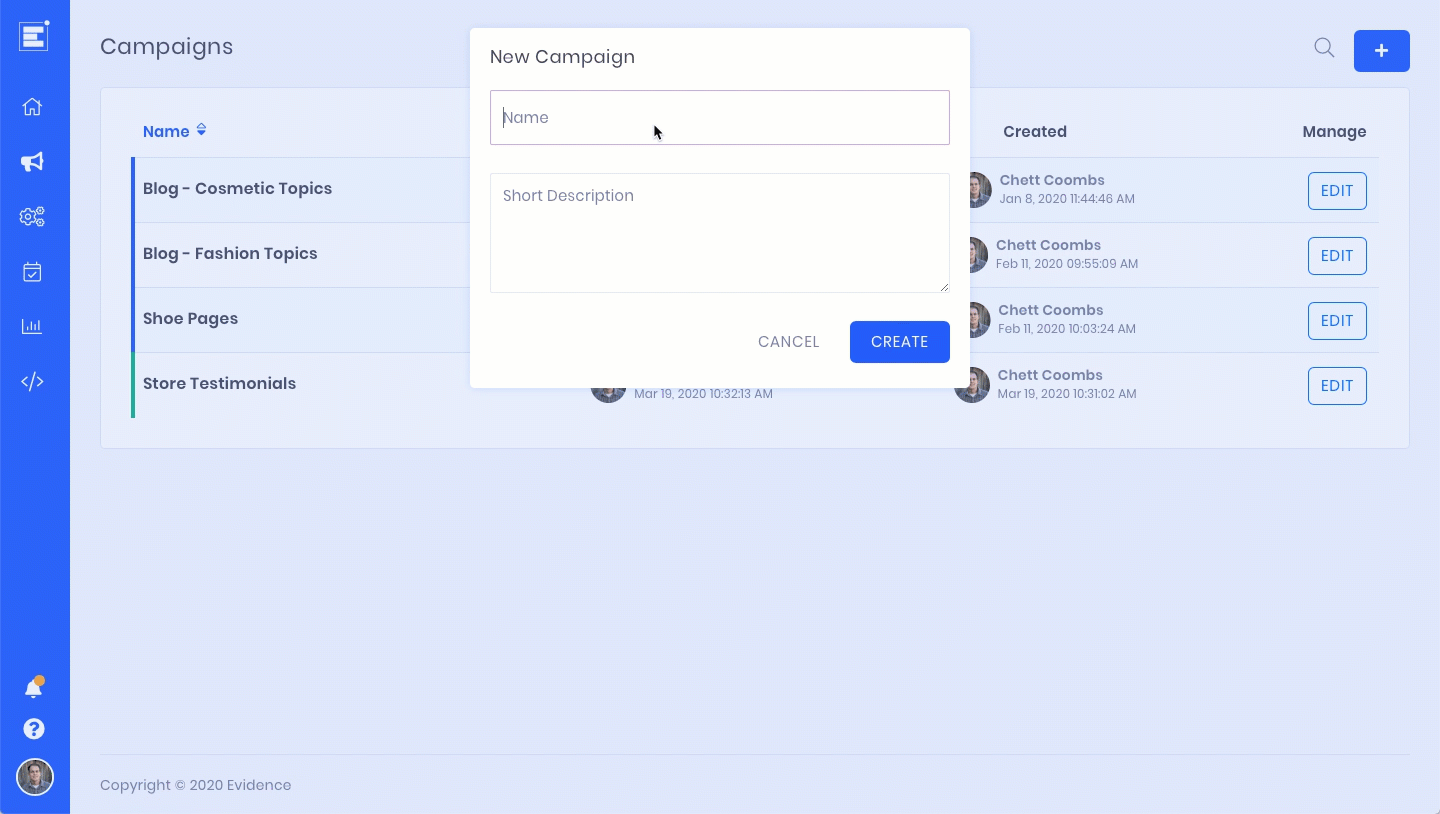 This will allow you to send customized conversion, hot streak, visitor count, and offer notifications with the right social proof to help build your customer's confidence in their purchase.
Don't have an Evidence account? Signing up is easy! Create a 14-day free trial and implement the strategies in this blog post. Check out what this person had to say about their experience:


Nothing gets close to Evidence
"I am super happy with Evidence. The design option is out of this planet. The integration options are unbelievable and I have never seen anything like it. SUPER DUPER TOOL."
Design
We have already discussed the importance of building your website to be scanned visually. It's a commonly accepted fact that design matters for all things web-related. Unfortunately, many social proof notification tools have very little design customization options.
Since we are a team of digital marketers, we built Evidence with design customization as a primary focus so that you can make your social proof tool look exactly the way you want.
Here are a few things to keep in mind when building your social proof pops.
Copywriting
Effective copywriting is the core of websites, video scripts, ads, blog posts, and email marketing. Quality copy is one of the most important parts of nearly every aspect of marketing, including your social proof campaign. Social proof pops don't include a lot of text, so make sure you write it with intention. What copy will build the greatest level of confidence in your product or service and get them to take action?
Here are some tips:
Address your audience. Rather than saying "_____ people just signed up for Evidence," we use the word marketers because that is our audience. Writing to your audience will help them associate themselves with the other people taking action.
Be specific. Where possible, add the name of the product or service someone purchased. If someone registered for a webinar, use the name of the webinar. Evidence has the ability to add custom merge fields from data sent by a webhook.
Use their language. Evidence allows you to customize the text. Be creative and use the type of language or phrases that your customer avatar would use.
Design it like Your Website
Whether your brand is positioned as fun and techy, luxurious and prestigious, or somewhere in between, it's important to keep your marketing and design consistent. When designing your social proof notifications, customize the font, color, shape, and imaging so they properly represent the brand your customers are accustomed to seeing.
Entrance
There is an old saying that timing is everything. While timing certainly isn't the most important part of your social proof campaign, it can certainly make a difference.
If you have a 20-minute sales letter video on your landing page, you don't want social proof notifications showing until after the offer is presented. Likewise, if you have a 1,500 blog post, you may not want to send your Evidence Offer notification until they reach the end of the page.
Make sure to time your social proof notifications appropriately. These settings can be customized within the campaign settings of your Evidence account.
Get People to Take Action
Every marketing campaign should have some sort of call-to-action, or CTA. A CTA is a well-positioned invitation to act. Most CTAs are a direct offer to purchase a product to service, but you shouldn't limit your CTA to product offerings. Here are some examples of calls to action.
Notifying of a promotion ending soon
Offer a one-time coupon
Invitation to subscribe to your newsletter or blog
Announce a new article, podcast, or Youtube video
Complementary product offering (People who bought _______ also purchased _______)
Implement Your Strategy
We've discussed what you need to do to prepare your website and the high-level concepts to consider for your strategy. Let's wireframe the steps and build it into your Evidence account.
Wireframe it first
Wireframing is a great first step to building any marketing plan, website design, or campaign strategy. Wireframing allows you to lay out the structure, core content, and steps of your plan. It does not include writing your copy or designing your notifications.
There are a lot of ways to wireframe your social proof campaigns. Many people use flow chart tools like Lucid or Draw.io. Others keep it simple and use a note pad or whiteboard.
Here are some steps to wireframing your social proof campaign.
Sources - Make a list of the different sources you will need for each campaign and the data points you want to capture for dynamic placement. If you plan on using static images for your notifications, make a list of icons or images you want to use. Here are some examples of potential data sources and fields.
Auto-responder (ex. MailChimp, ConstantContact)

Potential data fields - first name, email address, city/state, email newsletter name

CRM or marketing automation tool (ex. Infusionsoft, Hubspot)

Potential data fields - first name, email address, city/state, webinar name/date

Shopping cart (ex. Shopify, Woo-Commerce)

Potential data fields - first name, email address, city/state, product name & image, product category (use for filtering)

Scheduling tool (ex. Calendly, BookLikeABoss)

Potential data fields - first name, email address, city/state, appointment data, appointment name

Form builder (ex. Gravity Forms, Contact Form 7)

Potential data fields - first name, email address, city/state
Campaigns - Create a list of campaigns you will build. Since page filtering happens at the campaign level, a good rule of thumb is to create a specific campaign for each set of pages you want to target with specific notifications. You will also want to note any specific settings (timing, page targeting, display settings, etc.) for that campaign.
Notifications - Once you have made a list of campaigns, the next step is to create a list of notifications that will live within each campaign. Here are the different types of notifications you can building within Evidence.
Conversions are event-based activities, such as customer purchases, e-book downloads, appointments scheduled, or subscriptions created.
Hot Streaks are similar to conversions but over a given period of time. "57 marketers signed up for Evidence today" is an example of a Hot Steak notification.
Visitor Count shows how many people are viewing a website or webpage right now or viewed it over a set period of time. These notification types help drive FOMO, or fear-of-missing-out, and can increase buyer urgency.
Offers are most often used as a call-to-action. This notification has a vertical design with an image, heading, subheading, and button.
Announcements are used to announce a new product, blog post, video, or anything else you want to broadcast to your audience. Many Evidence customers use this notification to show their best reviews on Google or Facebook. You can hyperlink any text to send visitors to a specific page or resource. Visit this page for a list of creative ways to use this tool.
Reviews (coming soon) dynamically import your best reviews and show them to all your website visitors. Our Reviews tool will be powered by Shopper Approved.
There is no right or wrong way to wireframe your campaign. The goal is to create a step-by-step plan to follow when you get into your Evidence account.
Here is an example of a wireframing session done on draw.io: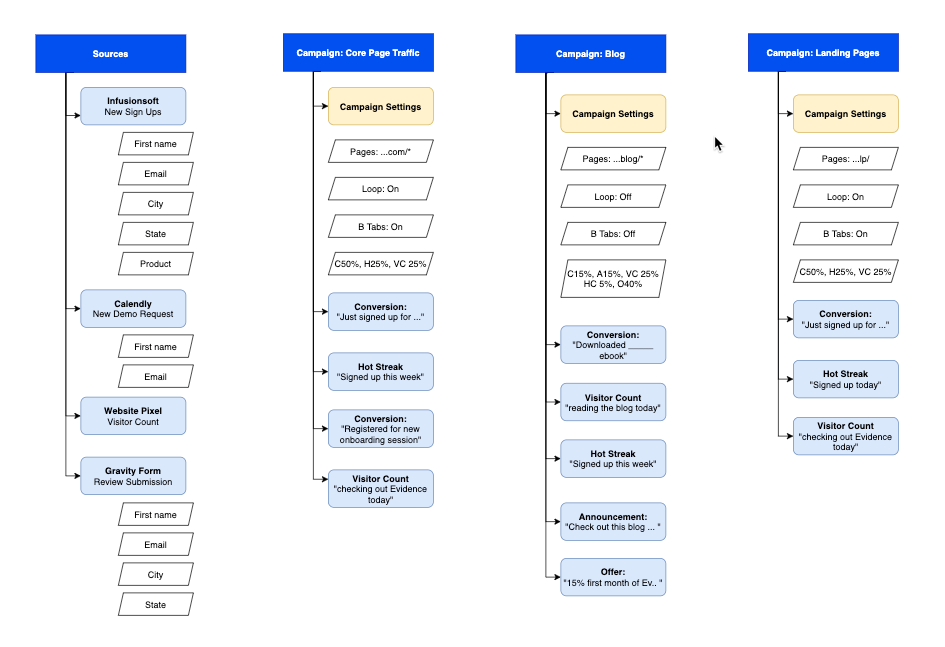 Build it in Evidence
Building your social proof campaign is the easiest part if you have followed the rest of this guide. Login to your Evidence account and let's build!
Step 1 - Connect your data sources
Connect your sources of social proof to your Evidence app. This can be done by capturing a webform submission or receiving a webhook from your other apps. We have a wide range of potential connections due to our amazing webhook parser. The possibilities are endless.
You can search Evidence.io/Docs for help with specific integrations. If we don't have a help doc specific to your app or tool, consider using one of these generic help docs or reach out to our support team for help.
Receive a Webhook
Capture a Webform
Once you connect a source, select a data point and to be used as merge fields and dynamic data. Next, label each data point so that you know what they are when adding merge fields to your notification. To the right of the field label, select the field type. This is required for Evidence to dynamically update images based on the settings you choose in the notification design editor.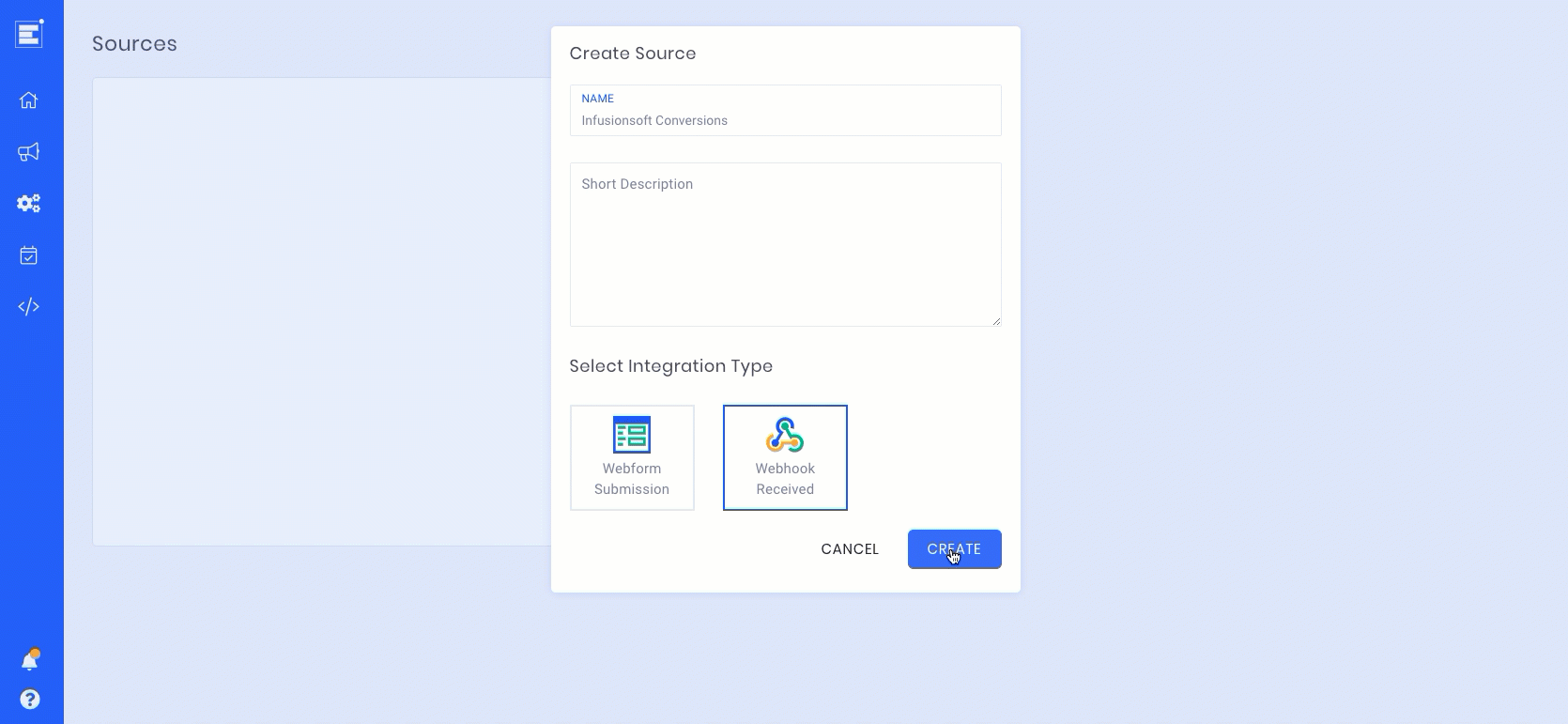 Step 2 - Create and configure your campaign
Create a new campaign by clicking "+" sign in the campaign menu. It's likely that you will have multiple campaigns, so make sure to add a name and description that will help you understand its objective and intended audience. This will help you keep all your campaigns organized.
Once you have created your campaign, configure your campaign under the Display and Options menu items.
The Display menu will allow you to specify which pages are included or excluded from your campaign. You choose to exclude a page by clicking Show On and changing it to Hide On. Entering a URL will show that campaign to only that page. To display notifications on any URL under a given path, such as /blog/, add an asterisk (*) at the end of the URL.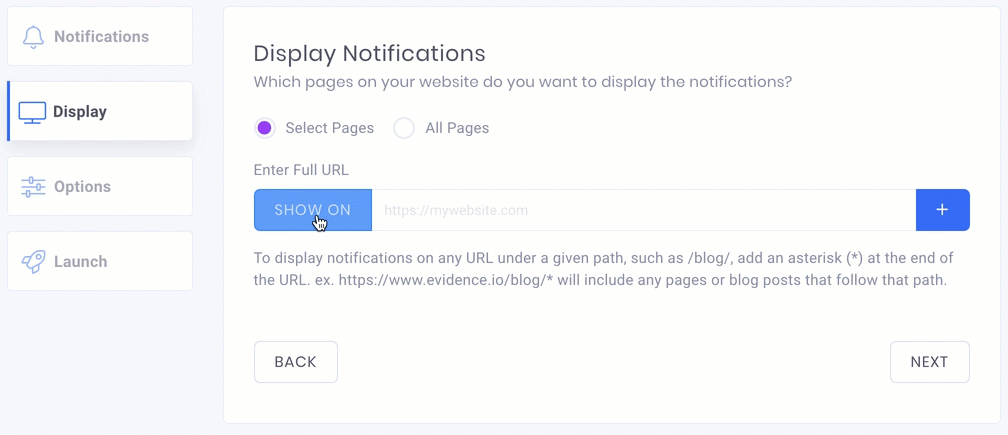 The Options menu will give you control over how your notifications interact with your website. Here are some of the settings within this menu.
Positioning on your webpage (bottom-left corner, top-right corner, etc.)
Appearance gives you control over looping, hiding on specific display sizes, and the ability for visitors to close notifications.
Timing gives you control over when notifications are first shown, how long they are shown, and the wait time between notifications.
Prioritization allows you to control the percentage of each notification shown in your campaign. (You can control the order of notifications shown by selecting and dragging their order under the Notifications menu item.)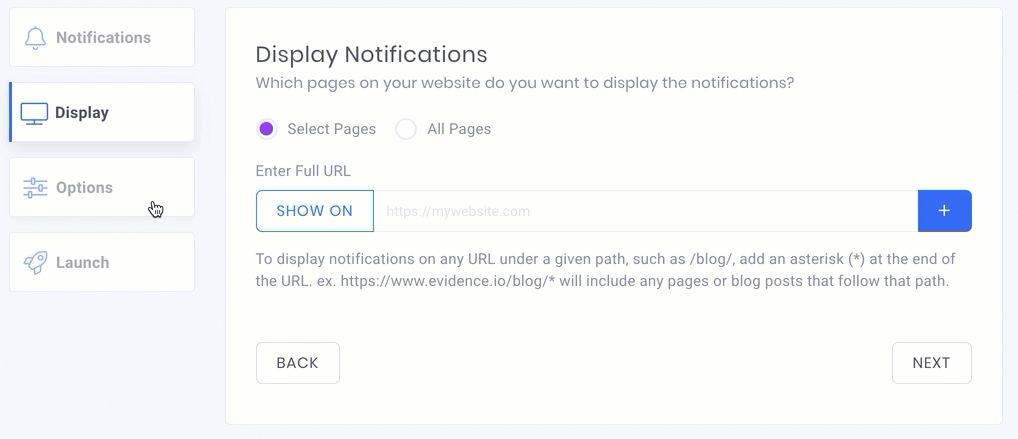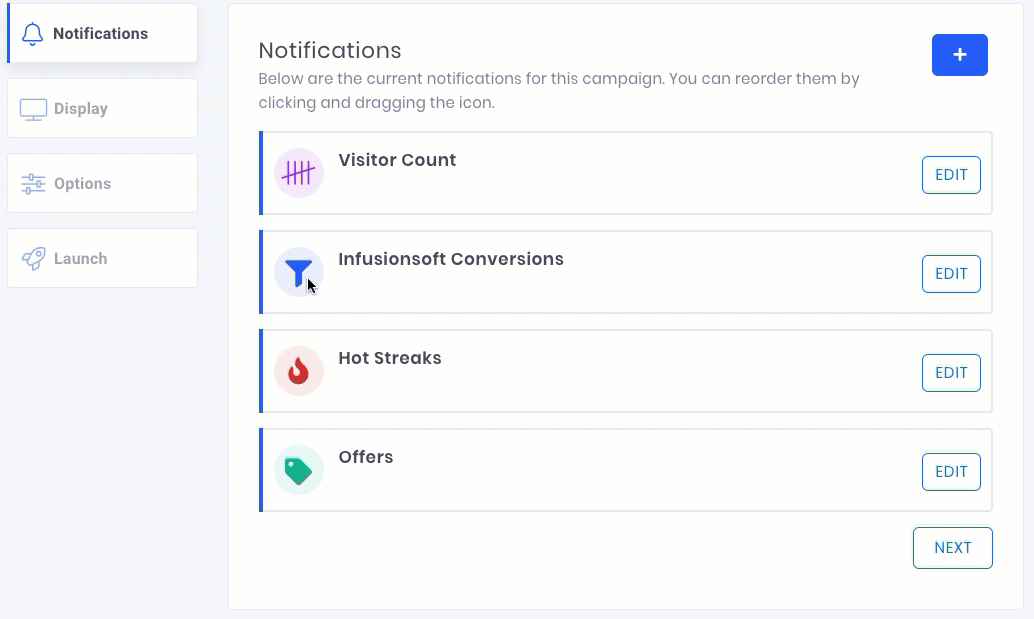 Step 3 - Add and design your notifications
Click the Notifications menu item and create a new notification by clicking the "+" icon. Choose between a Conversion, Hot Streak, Visitor Count, Offer, or Announcement. It's likely that you will have multiple notifications, so make sure to add a name and description that will help you understand its objective and intended audience.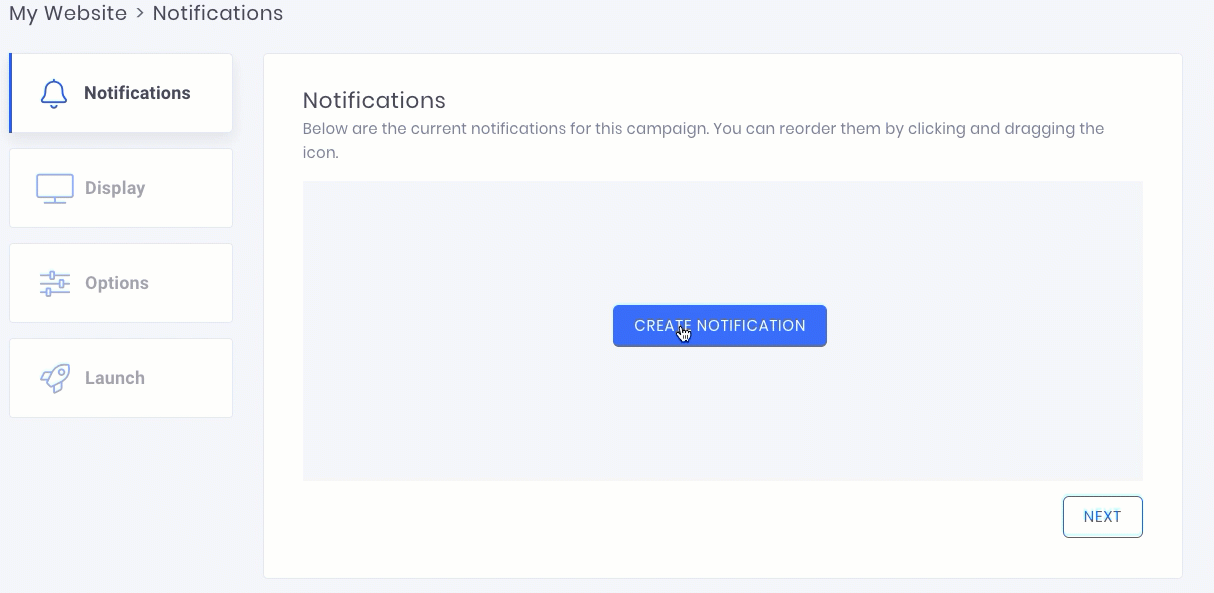 If you are creating a Conversion or Hot Streak notification, you will need to connect a source. At this point, you should have already connected a source to your Evidence account and will only need to assign that source to this specific notification. Under the Sources tab of the Notification, click Connect A Source, select Use Existing, select your source and click Create. Make sure your fields are properly labeled and turn on your source.
The next step is to design your notification. You can add text by clicking directly into the notification. You can change the text style by highlighting the text and making the necessary changes.
To use a merge field, click Edit Fields. You will need to select the field(s) from your data source and create that field as a merge field. Once you have added all your merge fields, you will be able to add those fields to the text of your notification.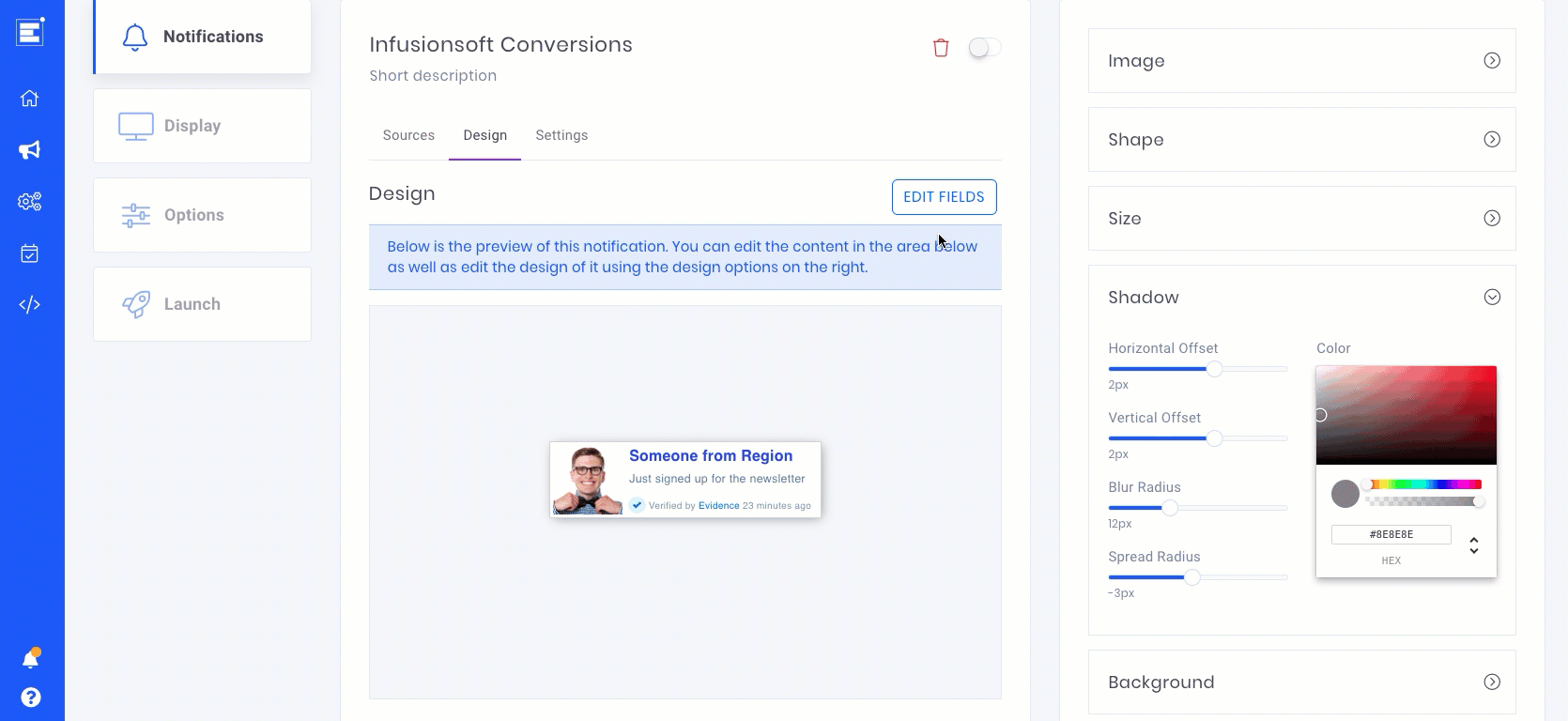 The design editor is very powerful. You can edit nearly every aspect of the notifications visual design, including the image, shape, size, shadow, background, border, animation, and the footer text color. When selecting an image, you can arrange the priority of the image used based on what data is being sent by your data source. If you use a static image, select a pre-installed icon or upload your own.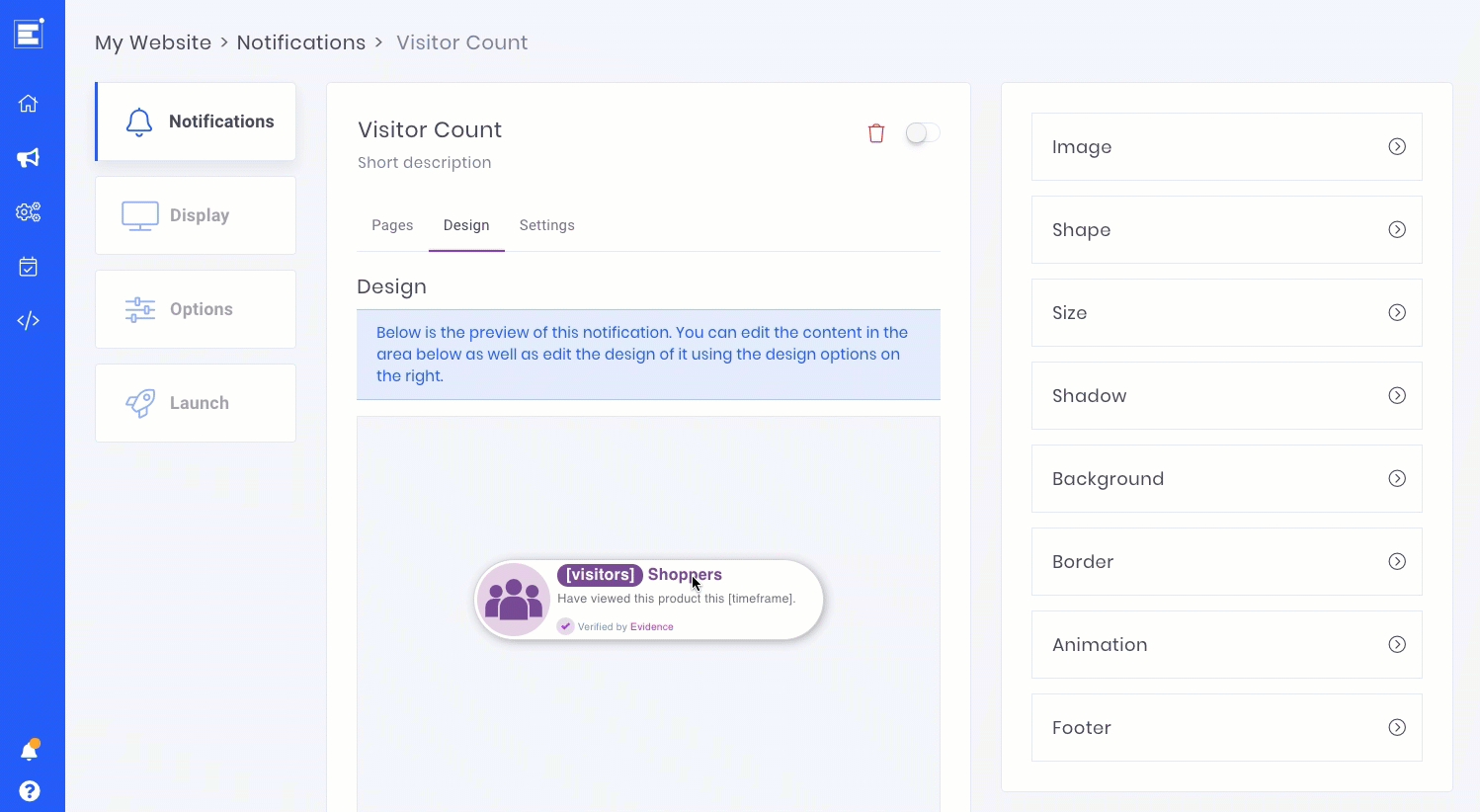 Once you are finished designing your notification, select the settings tab and make any final changes. These settings are specific to the notification type. For example, Conversion notifications have a setting to "Ignore conversions older than ___ days." If you are using a Conversion or Hot Streak, you can also add a filter to only show data that has specific data points. This is a great way to only show conversion notifications of a specific product or product category.
Make sure your notification is turned on. You can see it's status by the color next to the notification.
Blue - active
Grey - inactive
Step 4 - Repeat Step 3 (if needed)
If you need more than one campaign or notification, repeat steps 2 and 3 until you have finished building each campaign and notification you wireframed. Make sure you turn on each notification and campaign after you are finished. If you are creating multiple notifications of the same type, you can clone an existing notification to prevent repetitive work.
Step 5 - Publish your Campaign
The last step is to publish your campaign. Make sure all your data sources and notifications are turned on. Save your campaign and click Publish. Follow these steps for each campaign you build inside of Evidence.
A/B Test
No marketing strategy is complete without active monitoring, a/b testing, and improving. Make sure to test different placement, text, timing, and designs to maximize the ROI for your social proof campaign strategy. Follow these instructions for using Google Optimize to A/B test your social proof campaign.
Download this guide
The concepts of this guide can be used for nearly any marketing campaign you start. If you'd like a copy of this strategy for future use, enter your email address and we'll send it to you.