This article walks you through adding a data source so that you can create high converting social proof notification that are based on real actions taken by recent website visitors.
Understanding Definitions
Before we get into connecting your first data source, let's make sure we are on the same page with a few definitions.
A source is a connection that sends data to your Evidence account. Make sure you list the type of data (name, state, email, image) for each field you map to Evidence. Examples of sources include the following:
eBook Download form
Infusionsoft by Keap
Shopify
ClickFunnels
ActiveCampaign
A piece of information sent by a source is called an event. Events are most often an individual. Events can be managed within the left main menu. This menu option will allow you to view and delete any events from your notification feed.
Data from an event show on a notification when you add a merge field to the text box. Merge fields must be added for each notification type you create.
Social Proof Strategy
Before you connect a source, you need to understand the underlying strategy behind social proof. In his book Influence, Robert Cialdini said that when people are unsure of what action to take, they look to the action of others to guide their own actions. When implementing Evidence, ask what actions do I want people to take? Once you know what action you want your visitor to take, select the source that will help show social proof and help them make the desired action.
Example: Connecting Infusionsoft by Keap
There are thousands of apps you can connect to Evidence using our powerful webhook parser. In this email, we are going to show you a step by step tutorial to connect Infusionsoft by Keap to your Evidence account. Other integrations are likely similar.
Step 1: Connect a Source & Map Fields
Navigate to Sources in the left main menu. Click the blue + button to add a new source. In this example, we are adding a Webhook Received source and named it Infusionsoft Conversions.
Add the Evidence Webhook URL to your app or tool as the address used to send your conversion data (help docs). Once you send a test webhook, you will see the fields available to map to Evidence. Make sure to select the field type.
Once everything is complete, save your source, turn the toggle on, and hit publish.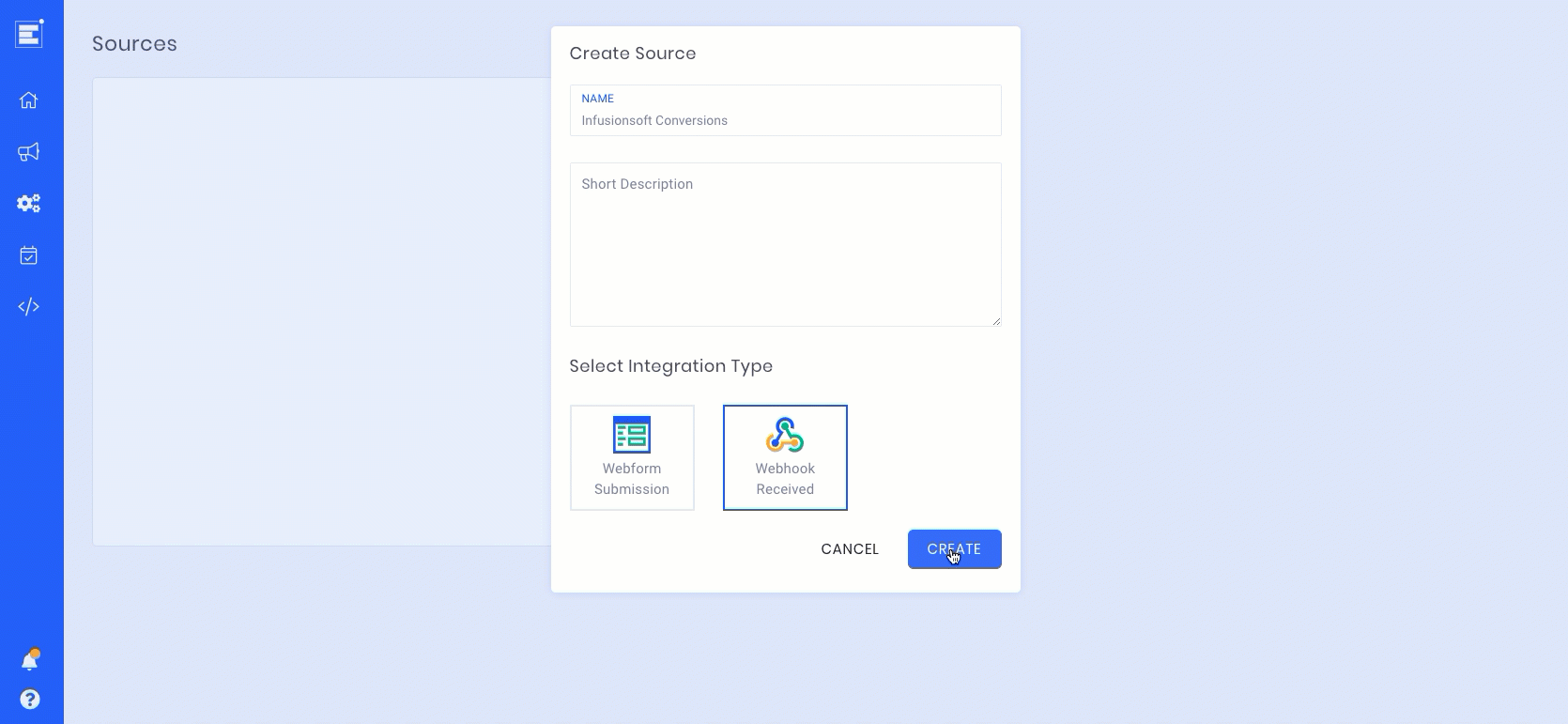 Step 2: Add Source to Notification
Once you have styled your notification, click on the Sources tab and then click Connect A Source. Since we already connected our source in step 1, select Use Existing and find your source in the dropdown.
Once you have added your source, confirm the fields are mapped properly. Make sure you turn on your source toggle within the notification.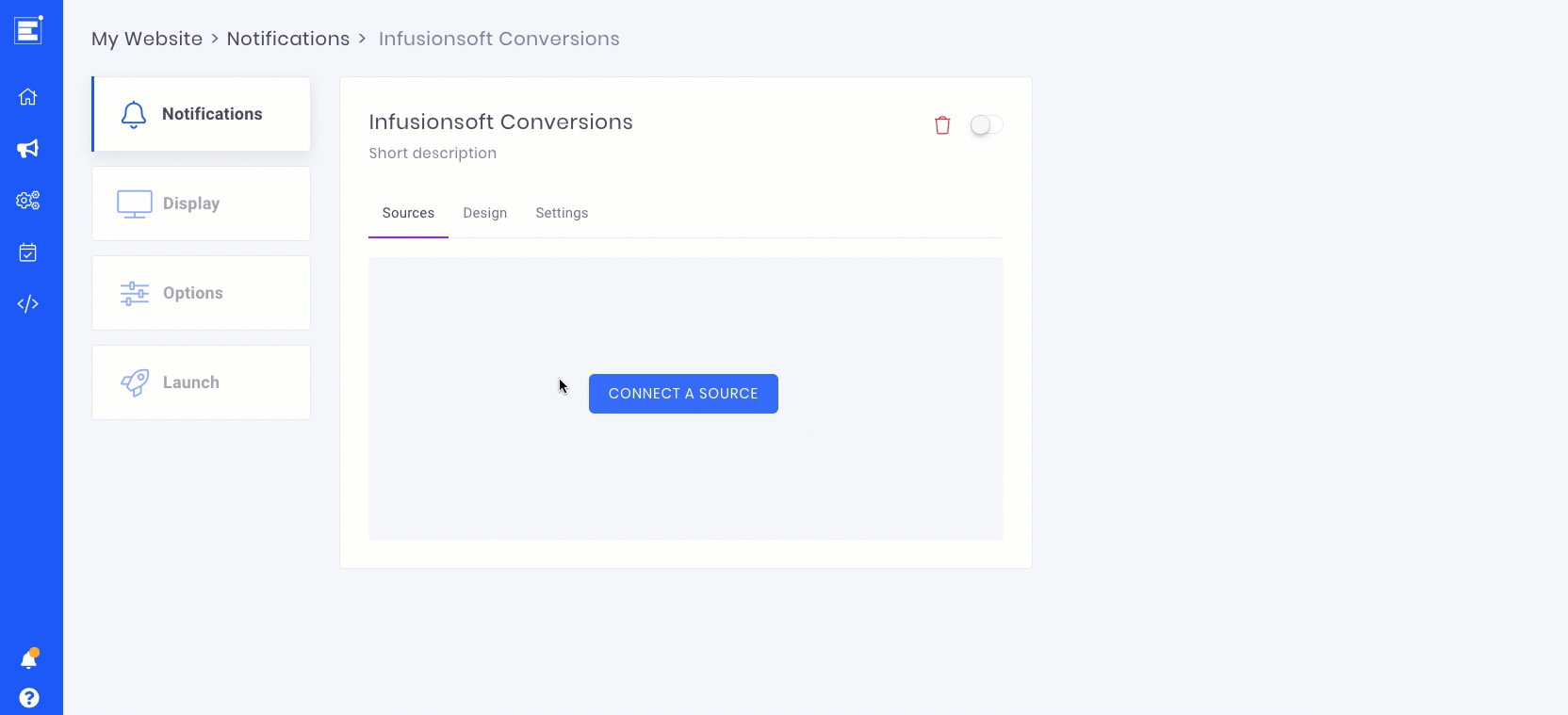 Step 3: Add Merge Fields
In the design editor, click the Edit Fields button to create merge fields. You will use this same button to edit any existing merge fields.
Create a merge field for each data point you want to show in your notification. Make sure to set any advanced options. Once you are finished creating every field, return to the design editor.
You can now click the text box and add a new merge field. In the example below, we add First Name, State, and Product to our social proof notification.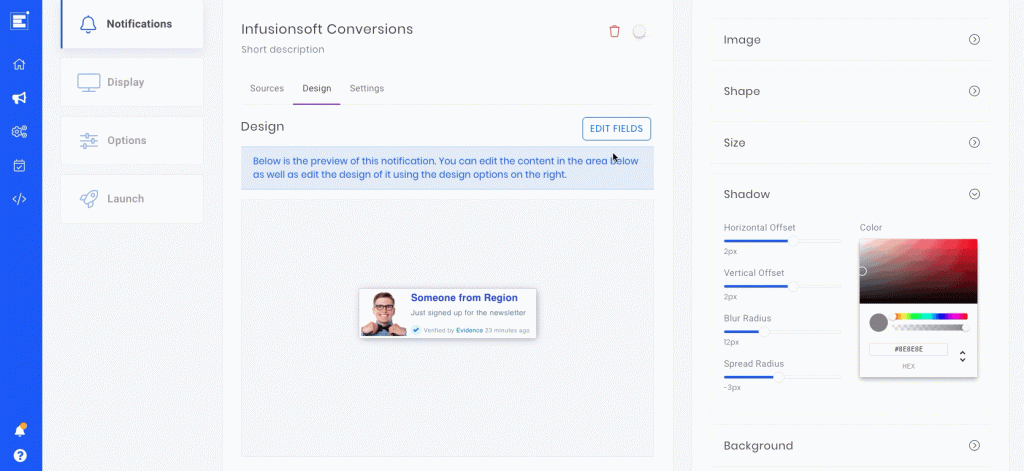 Step 4: Confirm
Before you publish your campaign, make sure your notification and data source is turned on at the notification level. Click the Launch menu and turn on your campaign. Navigate to the Sources in the main menu and confirm your data source is live.
Finally, click on Events in the main menu to see all incoming events from your recently added data source.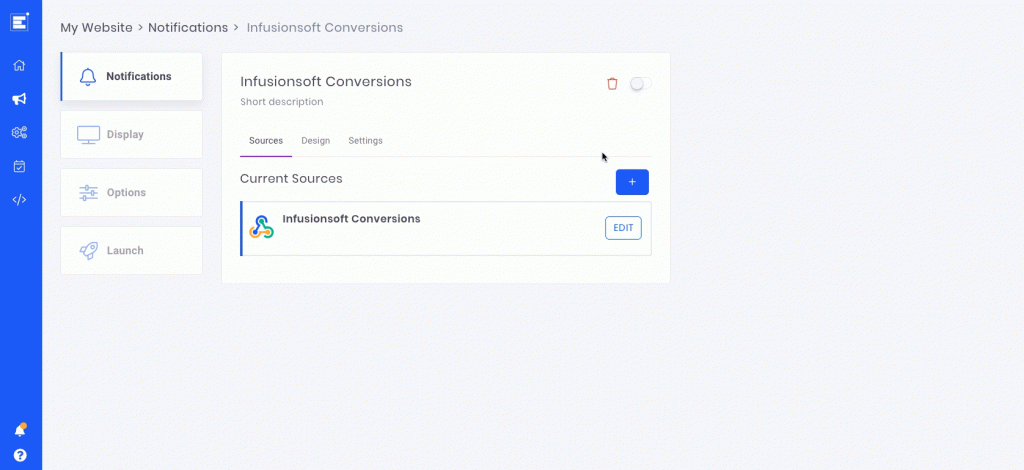 Relevant Articles
Create Your Free Evidence Account
Increasing your website's conversions isn't always black and white. With so many ways, it can be confusing where to start. Evidence makes this easy. Within a few minutes, you can have real-time social proof added your site and boosting conversions from 10-15%.
Social proof is the best way to build trust and increase buyer urgency. With a free trial to Evidence, you can adding add high-converting notifications to your website. Your free trial includes:
Unlimited Domains
Unlimited Notifications
Conversion Notifications
Hot Streak Notifications
Visitor Count Notifications
Offer Notifications
Announcement Notifications
Boomerang Tabs
Powerful Design Editor
Best-in Class Display Options
There is no long-term obligation. If you don't see results, simply cancel. Visit Evidence.io and create your trial account today.
If you ever need help sending data to Evidence, check out Parsey.com.