Occasionally we get asked if it's possible to remove the Evidence branding from notifications. While we built a feature to remove the Evidence branding, it may not be in your best interest to do so.

Evidence adds real-time, authentic social proof to your website to build buyer confidence and increase the urgency to buy.
We add "Verified by Evidence" to increase trust by showing that the purchase or action is verified by a third party and not simply a fake event created to get them to purchase.

Clicking on the word Evidence sends users to a page informing them they are seeing legitimate actions taken by real users of your site.
FACT: Campaigns that include Evidence branding result in higher conversions than campaigns that remove Evidence branding.
Subscribers of the Scale plan or higher can have this removed, but we discourage it. After all, you invested in Evidence to maximize your conversions, right?

Once subscribed to Scale or higher, you can update this setting inside of the footer settings within the notification design editor.

Dashboard > Campaign > Notification > Design > Footer > Remove Branding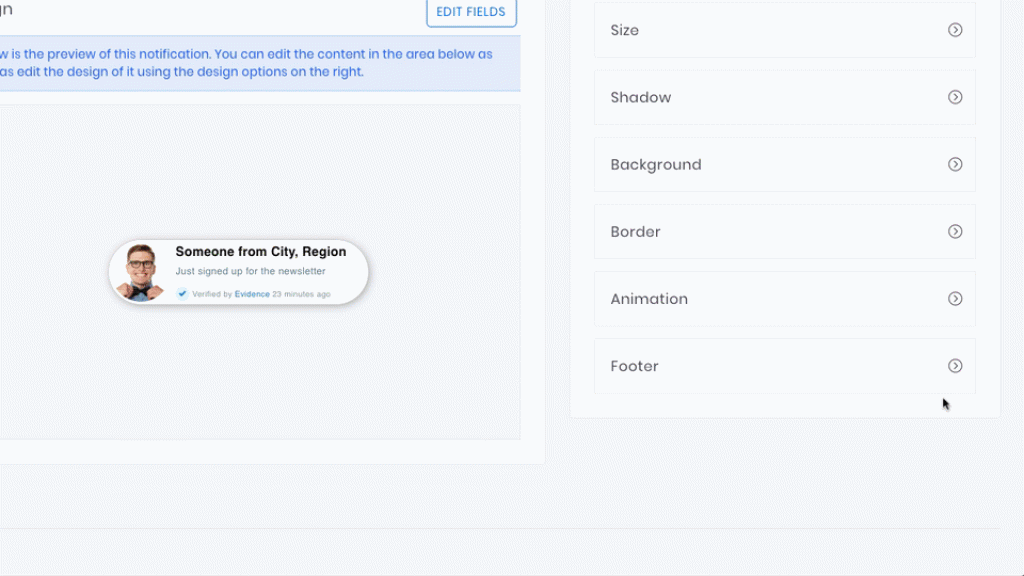 P.S. Are you an agency looking to actually replace Evidence branding with your own company name and hyperlink?

If so, you can do so by being on the Agency plan, and following this article:
https://evidence.io/docs/advanced/replace-evidence-branding/
Relevant Articles
Create Your Free Evidence Account
Increasing your website's conversions isn't always black and white. With so many ways, it can be confusing where to start. Evidence makes this easy. Within a few minutes, you can have real-time social proof added your site and boosting conversions from 10-15%. 
Social proof is the best way to build trust and increase buyer urgency. With a free trial to Evidence, you can adding add high-converting notifications to your website. Your free trial includes:
Unlimited Domains
Unlimited Notifications
Conversion Notifications
Hot Streak Notifications
Visitor Count Notifications
Offer Notifications
Announcement Notifications
Boomerang Tabs
Powerful Design Editor
Best-in Class Display Options
There is no long-term obligation. If you don't see results, simply cancel. Visit Evidence.io and create your trial account today.
If you ever need help sending data to Evidence, check out Parsey.com.