Step 1: Copy your Evidence Pixel
Follow this article to copy your Evidence Pixel.
Step 2: Add your Evidence Pixel to Cookie Notice for GDPR & CCPA plugin
Install the Cookie Notice for GDPR & CCPA plugin on your WordPress website and activate the plugin.
In your WordPress admin area navigate to Settings - Cookie Notice.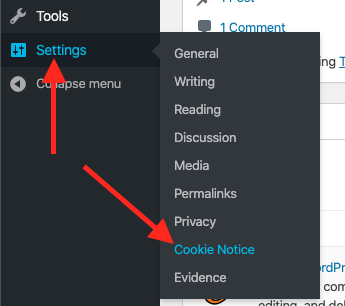 There are settings here that you'll need to configure based on your needs, but make sure to check the "Enable to give to the user the possibility to refuse third party non functional cookies." checkbox. (this blocks the script from loading until the user clicks on the agree button)

Click Body.

Paste the Evidence Pixel you copied in Step 1.

Configure the rest of the settings for your cookie consent popup and save the settings.

IMPORTANT: Clear website cache after you have followed these steps.
All done! Evidence notifications are now able to be displayed on your site after a visitor consents to cookies.