Step 1: Launch a campaign
In order to integrate Stripe with Evidence, Stripe needs a "Webhook URL" to send the data to. Follow this article to learn how to create a webhook URL within Evidence to insert into Stripe. Make sure your webhook source is listening for webooks before you send a test webhook.

You must toggle the "Viewing test data" switch in order to send a test webhook in Stripe
Log into Stripe and click "Developers".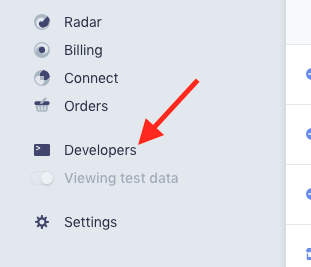 Select "Webhooks".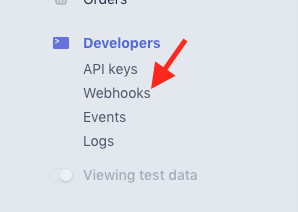 Click "+ Add endpoint".

Paste the Evidence webhook URL you created in Step 1 into the "URL to be called" box. Click "Add endpoint".
From the "Events to send" drop down menu type "charge.succeeded" and choose the charge.suceeded event. This way Stripe only sends a webhook when a charge is succeeds.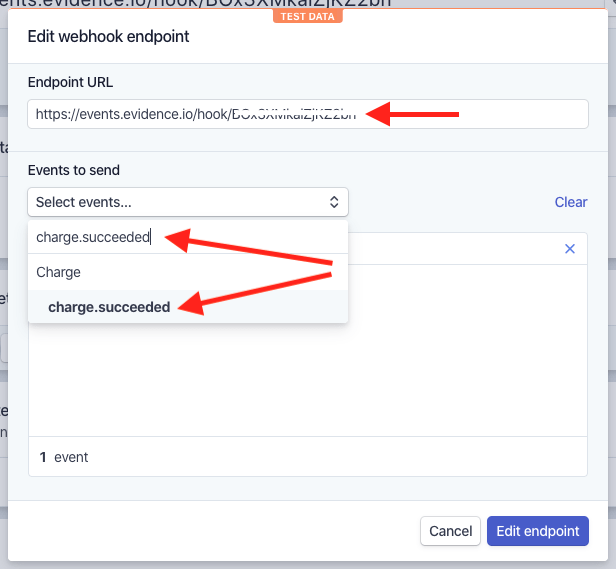 Click the webhook from the list.
Click the "Send test webhook…" button.

Next you'll see a modal window with the event name. Click the "Send test webhook" button.

Once Evidence has received the test webhook, click this link to learn what to do with the Stripe webhook that Evidence received.
Don't forget to repeat this process in live mode or Evidence won't receive webhooks when a charge is successful!!